6 Year Old Sisters Successfully Launch Book on Kickstarter to Help Rescue Dogs, now in Paperback!
Gigi and Ryan were born in Los Angeles and when their parents announced they were moving to Jacksonville, Florida, the "bargain" was to get a dog.
"Too Licky" is about two sister's journey to find the "just right" rescue dog for their family.
Gigi and Ryan Giles searched high and low to find the "right" dog. After months and months of searching they found her, the "just right" rescue dog – Sugar.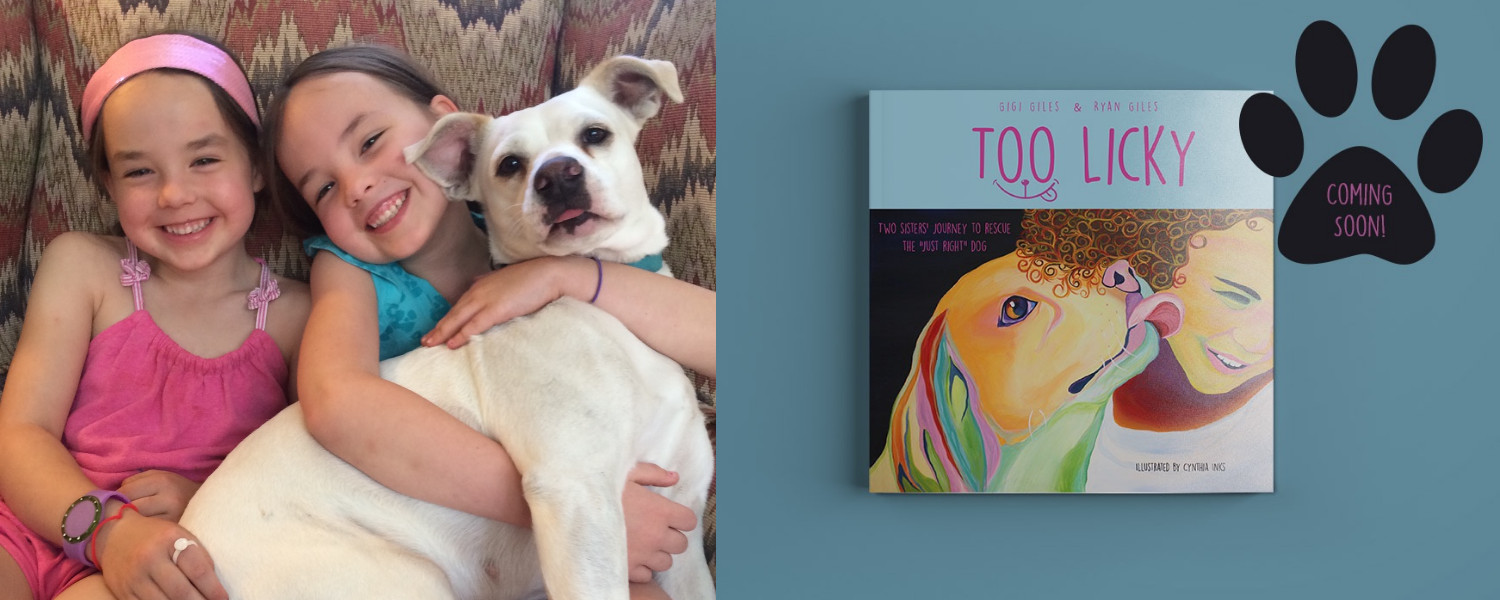 The book features beautiful illustrations by Cynthia Inks, a Florida native as well as forewords by well-known celebrity rescue and bully breed advocates – Tes M. Kurtz, Deirdre Franklin and Sophie Gamand.
The book features the rescue stories for the dogs illustrated in the book as well as tips for families on how to find their own "just right" rescue.
To secure funding for the completion and distribution of "Too Licky," they successfully launched a Kickstarter campaign in April of 2017.
The hardback version of the book launched on Amazon on October 17, 2017.
Now, they're launching a paperback version just in time for Valentine's Day!
Gigi and Ryan will donate a portion of profits to rescue and bully breed advocacy organizations.
Every purchase gives back!
For more information on "Too Licky," visit the website at www.toolicky.com.
Social Media:
Facebook: https://www.facebook.com/toolickybook/
Instagram: https://www.instagram.com/toolicky/
Pinterest: https://www.pinterest.com/toolicky0522/
Twitter: https://twitter.com/too_licky
Kickstarter link:
https://www.kickstarter.com/projects/1102373981/1168744437?token=dd640f40
As seen in:
https://allsmiles2017.wordpress.com/2017/04/09/too-licky/
http://www.jaxmomsblog.com/bookclub/too-licky/
http://mykidhaspaws.org/2017/04/help-pit-bulls/
http://www.luckypuppymag.com/licky-cute-childrens-book-will-help-rescue-dogs/
http://jacksonville.com/news/literature/2017-05-12/too-licky-twin-san-marco-girls-book-about-rescue-dog-adoption-help-animal
http://www.firstcoastnews.com/news/local/first-coast-living/fcl-friday-may-26th-too-licky-a-children-s-book/443306126
http://folioweekly.com/stories/sweeter-than-sacchrine,18371
http://shop.moderndogmagazine.com/cozy-autumn-reads
SaveSave
SaveSave
SaveSave
SaveSave